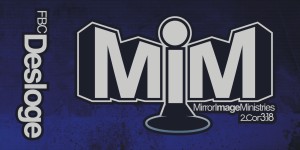 Welcome to MIM ministries. Mirror Image Ministry is our youth group for grades 7th-12th. 2 Corinthians 3:18 states that we should become transformed into the same image of God. MIM Ministries exists to help students glorify God by KNOWING Jesus as their personal Savior, GROWING in their relationship with him, SHOWING his love to others and GOING out to share the gospel with the world.
Lock-ins, Laser Tag, Music, Studentlife camps, Mission trips, concerts and much more…

Sunday:
Sunday school 9:45am-10:45am
Wednesday:
Weds evening 6:00pm-7:30pm
YOUTH DIRECTOR
JOB DESCRIPTION
Principle Requirements:
Report directly to the Senior Pastor
Attend Staff Meetings when possible
Give the Pastor a monthly schedule of activities and time allocations
Follow and maintain a yearly budget
Youth Director Responsibilities:
Assist church program organizations to develop a comprehensive program of youth education.
Responsible for planning, conducting, and evaluating youth activities along with ministering to and with the youth of the church community.
Enlist appropriate youth workers.
Advise in the use of program materials/equipment for youth, discipleship, and Sunday School curriculum.
Work with lay youth leaders to plan and conduct special projects, i.e. camps and to enlist other chaperones as needed.
Work with program leaders and appropriate staff members to resolve philosophical, procedural, scheduling problems in the Youth Ministry.
Attend the October and November Church Council meetings to present the next year's calendar.
This is a part-time position. Please send resume to office@fbcdesloge.net.